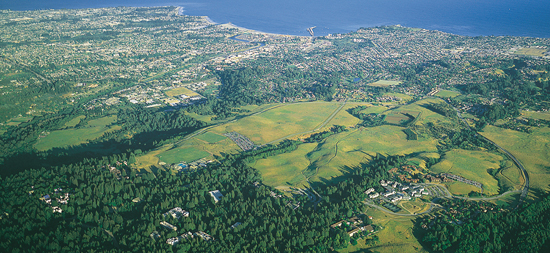 The conference was held on September 12th and 13th, 2019.
Thank you to everyone who attended and contributed to the 13th Annual All-California Labor Economics Conference in September held in UC Santa Cruz with 100 attendees from 18 different universities and organizations. The conference is held once a year at a university or research institute in California. The first one held was at UC Davis thirteen years ago. Labor economists and economists from related fields from all over California attend each year. The papers presented at this year's conference covered topics that touch on issues of public interest and social good. Many of the papers involved big data and use this data to solve pressing social problems in the U.S. and around the world. We heard about a broad range of topics including studying informal labor markets in Mexico, genetics and returns to education, gender discrimination faced by politicians, and immigration, as well as more traditional topics such as the minimum wage and job training programs. We also heard about an exciting new opportunity for research partnerships with California government agencies, the California Policy Lab.
---
The All-California Labor Economics Conference (ACLEC) brings together labor economists from throughout California annually to present recent research. Prior conferences have been hosted by USC, Stanford, UCSD, UC Davis, UCLA, UC Riverside, UC Santa Barbara, UC Berkeley, RAND, and the Federal Reserve Bank of San Francisco. This year's conference will be hosted by UC Santa Cruz and the Institute for Social Transformation on Thursday, September 12th and Friday, September 13th. Laura Giuliano (lgiulian@ucsc.edu) and Robert Fairlie (rfairlie@ucsc.edu) are co-organizing.
Registration
To register for the conference, please complete the form below. There is no registration fee for the conference due to the generous support of the conference sponsors. Registration must be submitted by August 28.
Registration has now closed. We look forward to seeing you all in Santa Cruz. If you have any questions about registration, please contact Mykell Discipulo at mkdiscip@ucsc.edu.
Agenda
The conference will begin on Thursday, September 12 at noon and end on Friday at 3:30 PM.
Full Conference Program Agenda can be found here.
The Conference venue will be the Jack Baskin Auditorium. The reception, poster session, and dinner will be held at the Cowell Hay Barn (see map below).
Guest Information
Hotels
Room blocks at two local hotels have been created for this event. The conference will provide lodging at Hotel Paradox for selected paper presenters only; all other participants are responsible for arranging their own lodging through the room blocks. All participants are responsible for their own travel arrangements.
40 Room Block. Rate: $189+tax. Reserve by August 12 August 19, 2019 (extended). To reserve:
1. Call 1-844-236-8186 and ask for the UCSC CA Labor of Economics Room Block Discount Rate.
2. Open the following link: UCSC CA Labor of Economics Room Block Reservation-link Select your dates of stay and click "Continue."
If you would like to extend your reservation on either side of the conference, please contact Hotel Paradox Group Housing at 831-600-4510. [Additional nights are based on availability, and group-negotiated rates are not guaranteed]. Guests who wish to cancel their booking must provide at least 48-hour advance notice from their arrival date.
20 Room Block. Rates: starting at $125.10+tax. Reserve by August 22, 2019. Call: (831) 425-5455 and ask for the "All-California Labor Economics Conference" group block.
Parking
Parking for the main conference venue will be in Core West parking structure on Heller Drive. Parking permits are required at all times. The conference will provide parking permits via two methods:
A parking attendant will be issuing permits in Core West parking structure On Thursday 9/12 from 11:30 am – 1:30 pm.
If you arrive after Thursday at 1:30 pm, please first pick up a parking permit at the Transportation (TAPS) Parking Sales Office. Tell them that you are with the California Labor Economics Conference. There should be no charge for these permits. Permits will not be available at the conference location or parking lot after Thursday at 1:30 pm.
Click here for a map for the Jack Baskin Auditorium, Core West parking structure, the Cowell Hay Barn and the TAPS Parking Sales Office.
For Google Maps or Uber/Lyft, please use the following terms:
UCSC Core West Parking (for conference venue parking)
Jack Baskin Auditorium (if dropped off at conference venue)
UCSC Lot 116 (for Hay Barn parking)
UCSC Transportation (for TAPS sales office)

Sponsors