June 2
@
5:00 pm
–
8:30 pm
The Center for Agroecology and the UC Santa Cruz Foundation Board of Trustees invite you to the Foodways Benefit Dinner on June 2, advancing the road map to student food security. This extraordinary evening features special guest chef Brandon Jew, executive chef of Mister Jiu's in San Francisco and winner of two 2022 James Beard awards. The five-course meal will highlight seasonal, local produce from the UC Santa Cruz Center for Agroecology paired with local award-winning wines.
Proceeds from the event will advance UC Santa Cruz's efforts to reduce student food insecurity on campus and achieve the UC system's goal of reducing student food insecurity by half by 2025. The event will include tours of the UC Santa Cruz Farm where you can see firsthand how the Center for Agroecology and UCSC partners are working to feed and nourish students. A silent auction will provide further opportunity to increase support for students' basic needs.
Tickets are available at $250 per person or $2,500 for a table of 10.
This event has limited capacity. Deadline to purchase tickets is Friday, May 26.
We are grateful to the UC Santa Cruz Foundation Board of Trustees for providing seed funds for the campus's food security plan and this event.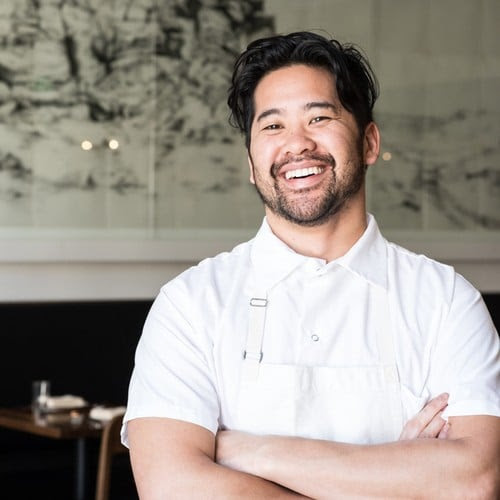 Brandon Jew
Executive Chef of Mister Jiu's in San Francisco
Brandon Jew is the executive chef and owner of Mister Jiu's, a contemporary Chinese American restaurant in the heart of San Francisco's Chinatown. Mister Jiu's combines the local, seasonal, and organic bounty of the Bay Area together with classic Chinese techniques and flavors. The restaurant celebrates its place in the historic neighborhood, working toevolve and define Chinese American cuisine in the Bay Area.
Brandon's training spans from Bologna, Italy, to Shanghai, China, and many restaurants within the Bay Area. He considers Judy Rodgers (Zuni Café); Michael Tusk (Quince); and his grandma, Ying Ying, to be his most influential mentors. Brandon has appeared in the New York Times, Wall Street Journal, Mind of a Chef, Ugly Delicious, Taste the Nation, and Vice Munchies. His honors at Mister Jiu's include one Michelin star, #3 on Bon Appetit's Best New Restaurants in America 2017 "The Hot 10" list, San Francisco Magazine Chef of the Year, and James Beard nomination for Best Chef West 2018, 2020, 2021, and winner for the honor in 2022. Brandon is the co-author of the book Mister Jiu's in Chinatown, for which he also won the 2022 James Beard award for best restaurant cookbook.