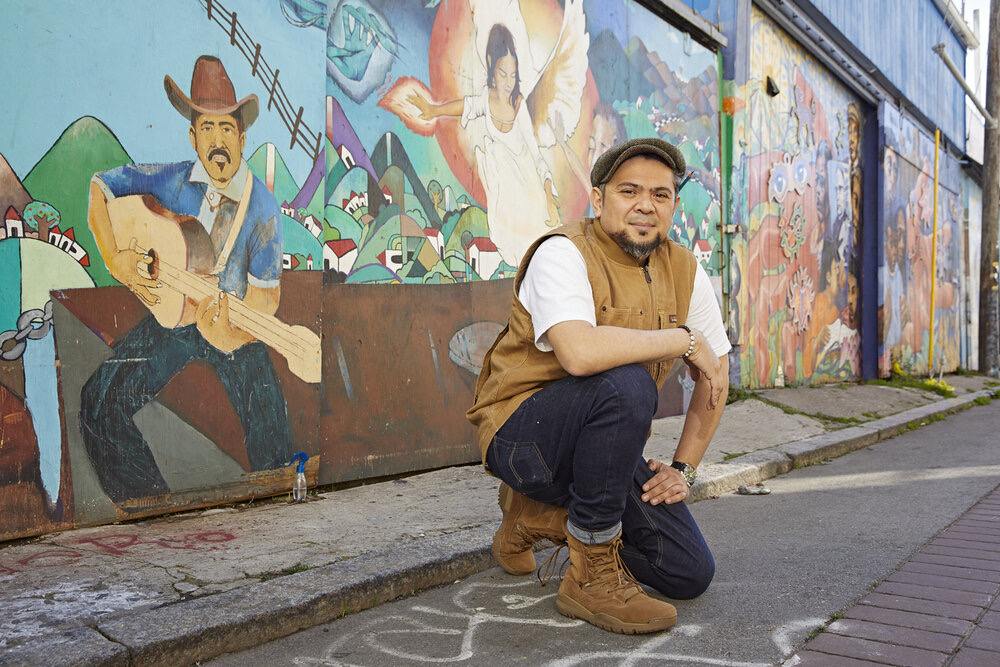 This event is free and open to the public.
Join us for a public conversation at the Institute of the Arts and Sciences (100 Panetta Avenue, Santa Cruz, CA) between artist Josué Rojas and Professor John Jota Leaños (Executive Committee of the Dolores Huerta Research Center for the Americas). Josué Rojas is a Salvadoran-American artist from the Bay Area who has done murals throughout the country. Exploring subjects such as identity, immigration, and culture in his work, Rojas will be discussing his artistic practice in/with community. He is the Huerta Center's artist-in-residence for Spring quarter, a residency which is being generously cosponsored by the Arts Research Institute's Arts and Oppression initiative, UC National Center for Free Speech and Civil Engagement's VOICE initiative, the Institute for Arts and Sciences, and The Humanities Institute.
Sponsored by: the Dolores Huerta Research Center for the Americas.
About Josué Rojas
Josué Rojas is a practicing visual artist, muralist and educator. Rojas has worked in the Bay Area for over 25 years in San Francisco, particularly creating public art. Rojas' work is characterized by conversations with community and engagement and turning those values, concerns and stories into aesthetic expression. The intention behind the work is to bring critical conciousness and bring beauty to the same conversation, while delivering beauty, subtlety and mastery of teh craft of painting– paying respects to decades of muralist that have come before. Rojas holds a BFA in Painting/Drawing and an MFA in Painting/Drawing from Boston University. Rojas lives and works in Northern California, primarily San Francisco where he lives.