Q&A with Aissata Ba
Second-year UCSC student in Legal Studies
Originally published at UCSC News Center by Robert Ham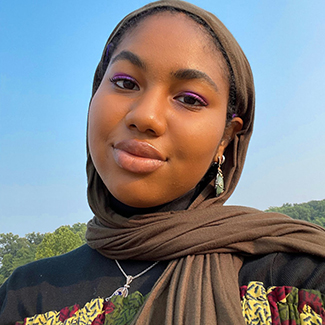 When Aissata Ba decided to put her name in the running for a chance to meet former First Lady Michelle Obama at a special event last year, the second-year legal studies major kept her expectations low. "It was a really spur-of-the-moment decision," Ba said. "I thought there was no chance that I would get selected because UC Santa Cruz is a big school. But I wanted to take a chance anyway. You never know what comes out of these things."
Watch BET Her Presents…Becoming: Michelle Obama In Conversation
Ba, a 20-year-old Black Muslim first-generation American, was chosen from among a competitive pool of applicants to visit Prince George's Community College in Maryland where she and a handful of other college students from around the United States were brought together to be part of a conversation with Michelle Obama on some of the themes addressed in her best-selling memoir Becoming. UC Santa Cruz's The Humanities Institute (THI) set up this opportunity for Ba and sponsored her travel and accommodation. THI also gave 500 free copies of Becoming to members of the UC Santa Cruz community and facilitated the campus's participation in the exclusive live streaming event as part of the institute's 2021–2022 theme, Imagination. Across UC Santa Cruz, people tuned in to watch Ba and the special cohort of selected students talk with Obama about challenges they were facing and ways to build a better future.
"One of the things that we were talking about was the experience of being a first generation college student," Ba remembered, "and feelings of imposter syndrome. Also, the question that was brought up that was really interesting of how you can bring about change outside the political system. She talked about fueling and homing in on your own passions. I really liked her response to that."
Ba is already well ahead of the curve when it comes to keeping the flame of her personal passions lit. From her years living in Orange County to her move to Santa Cruz, she has made an impressive name for herself via her various social media accounts where she discusses the books that she's reading and shares little snippets of her life. It has garnered Ba thousands of followers to her Twitter and Instagram accounts, and over 10,000 subscribers to her YouTube channel.
Ba filmed a wealth of material from the trip to Maryland, both for her own channels and for an Instagram takeover for Better Make Room, the nonprofit organization, founded by Michelle Obama, that offers resources and encouragement for young high schoolers applying to colleges and universities. All of that content will go live in advance of the Jan. 17 premiere of BET Her Presents…Becoming: Michelle Obama In Conversation, a TV special about the event that airs on BET and BET Her.
As Ba sees it, this event and much of the work that Michelle Obama has been doing since her family departed the White House in 2016 is about investing in the lives and futures of young Americans.
"It felt like she wanted to be there having a conversation as much as we did," Ba said. "She wanted to hear our stories as much as we wanted to hear her insight. She talked about how she does have hope in our generation and young people to bring forth change that may not have been possible in her day."
The experience of being part of the event last month is still sinking in for Ba. She only had about a week to prepare herself to fly to Maryland and she was back in Santa Cruz soon after. Even so, meeting a public figure that has been a source of inspiration and connecting with an exceptional group of peers from around the country clearly left a deep impression on Ba.
"It feels surreal," she said. "It was so amazing to be able to meet different students from other schools that had such different perspectives. And just the experience of speaking with Michelle Obama and [actor] Yara Shahidi, I learned a lot. It was such an eye-opening experience and definitely one that I will treasure for a lifetime."
---