Q&A with Amanda Safi
Transforming Futures Intern Summer 2022
Originally published at UCSC News Center by Haneen Zain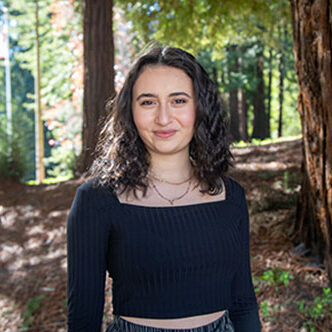 Third-year politics student Amanda Safi (John R. Lewis '24, politics) spent her summer interning for the House of Representatives at the Office of Congressman Jimmy Panetta. An experience she says enhanced her educational experience at UCSC, and allowed her to explore a career path she hadn't been able to before. Without a scholarship from Transforming Futures—a pilot scholarship program launched by UC Santa Cruz's Institute for Social Transformation in Summer 2022—Safi wouldn't have been able to pursue the unpaid internship and stay in Santa Cruz.
"I knew that I wanted to do an internship as a learning experience, and I would work my hardest toward making it happen in some way," Safi said. "Receiving this scholarship helped in relieving the extra stress and pressure from needing to juggle multiple responsibilities at once."
Transforming Futures's mission is to open up opportunities and remove financial barriers for first-generation, underrepresented, and/or low-income college students at UC Santa Cruz so they can participate in career-advancing summer internships. Seven UCSC students were awarded up to $6,000 in Transforming Futures Scholarships. These students pursued internships at local non-profit organizations, California government, and an Oakland-based non-profit.
"I wanted to apply for the scholarship because I found out I was accepted for a summer internship that was unpaid and I wouldn't have been able to stay in Santa Cruz without some sort of stipend," Safi said.
Safi was the only Transforming Futures recipient to pursue an internship in California government. It included answering constituent phone calls, writing daily news summaries, and filing casework involving federal agencies like the IRS, Social Security Administration, and Department of Education.
Safi had also expressed interest in policy work and had the opportunity to work with the policy team in Washington DC. She took notes on caucus briefings, drafted a policy proposal, and wrote up policy cosponsoring recommendations—some policies of which Congressman Panetta ended up cosponsoring.
"I've heard a lot of people say that the heart of what you learn about in your career is done through outside experience and interactions in the real world, rather than solely in the classroom," Safi said. "I think that that was definitely the case for me in this internship which has elevated my understanding of what I've already learned in class."
Safi's summer with the office of Congressman Panetta was not the first time she's come across policy proposals, or advocated for what she believed in. In October 2021 Safi's work on a coalition pushing for menstrual equity in California saw Gov. Gavin Newsom sign AB 367 into law. The unfunded mandate requires all public schools grades 6–12, along with community and state universities, to stock restrooms with free menstrual products in 2022. The law had excluded UC systems, but that didn't stop Safi from providing basic necessities to UCSC students.
In February 2022, Safi equipped every UC Santa Cruz women's and all gender bathrooms with free menstrual product dispensers, and disposal bins in each stall.
"People don't need to buy toilet paper and soap when they go into a public restroom," said Safi in a past interview. "Just the idea of needing a quarter to pay for a necessary biological event is kind of ridiculous."
Safi's roots as a period equity activist began her senior year at Aragon High School in San Mateo County, and continues to grow. Although she is not set on what she wants to pursue after graduating from UCSC, Safi said her summer internship experience provided invaluable insight that she will never forget.
"I think that this is such a great program for students that the university should continue after this pilot," Safi said. "I would not have been able to have this amazing summer internship experience without the scholarship."
All funds for Transforming Futures were made available through the generosity of donors MR Macgill and Ho Nam.
To learn more about our donors and why they gave to this program, read a more in-depth conversation we had with them. To learn more about how to support Transforming Futures at UCSC, contact Joop Rubens.
---