Donor-funded scholarship paves the way for UCSC student's impactful internship
Originally published in the UCSC News Center by Haneen Zain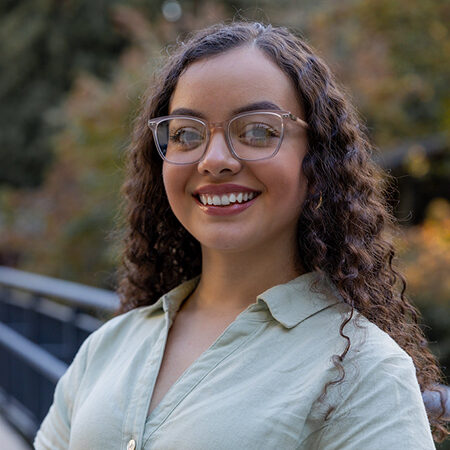 Leslie Salgado (Kresge '25, psychology) always knew she wanted to work with kids. So when the opportunity to work with children arose this summer, she knew she had to pursue it. Salgado spent three months interning at Jacob's Heart Children's Cancer Support Services.
Jacob's Heart provides family-centered care that addresses the emotional, practical, and financial struggles for families of children and teens during cancer treatment. Salgado had heard about the organization through her volunteer work at Second Harvest Food Bank.
"I got to see how important impactful organizations like these are and how important it is to have them in our community," Salgado said. "The resources they provide for families in need make a big difference."
As a clinical therapist intern at Jacob's Heart, Salgado worked on updating case notes, participated in weekly meetings where challenging cases were discussed, created service fliers, participated in a hospital visit, and more. She says that the experience she gained allowed her to explore multiple paths in the psychology field.
Salgado was able to pursue the internship with Jacob's Heart thanks to UCSC's Transforming Futures—a program within the Institute of Social Transformation—which awarded up to $7,500 scholarship stipends to 12 students from underrepresented backgrounds to allow them to pursue unpaid internships over the summer.
Salgado says it would have been impossible for her to pursue her dream internship without the support of a Transforming Futures scholarship.
"I feel very fortunate to live in a community where donors make it possible for us to immerse ourselves in this short but intense internship without worrying about financial expenses," Salgado said. "I know that otherwise, I would have never gotten the opportunity to participate in an internship of this form, which was a very impactful and great experience."
Transforming Futures's mission is to open up opportunities and remove financial barriers for first-generation, underrepresented, and/or low-income college students at UC Santa Cruz so they can participate in career-advancing summer internships. All funds for the Transforming Future Program were made available to students through the generosity and invaluable support of MR Macgill and Ho Nam, who were attracted to the campus because of its reputation for supporting first-generation college students.
"It is clear that internships provide an important experiential learning opportunity for students to gain professional experience, build professional networks, create future career pathways, and are an important component of student success," MR said. "But unfortunately, a number of meaningful internships are unpaid, particularly at non-profit or government organizations, and therefore are not an option for many students with limited financial resources."
Supporting families affected by cancer
Salgado was born and raised in Watsonville, California, and always knew she wanted to stay local when it was time to go to college. She said attending UC Santa Cruz was an easy decision to make. With encouragement from a UCSC college advisor, Salgado applied to Transforming Futures and landed her transformational internship with Jacob's Heart.
"The most rewarding part about being at Jacobs' Heart was getting to work with the kids and their families and realizing the impact that those resources make."
One of her favorite memories was working at Jacob Heart's biggest event of the year called Camp Heart and Hands. The full day experience gives the parents and guardians of children with cancer the opportunity to relax, rejuvenate, and be pampered for the day while dozens of nurses tend to their children.
"The families receive massages, they get to be by the pool, and get to just be with their kids without having to worry about anything happening to them because there's about 30 nurses and a doctor on duty."
Salgado says she is excited to pursue other internships in the future to continue exploring different paths in the psychology field and plans to pursue a Master's degree after graduating from UCSC.