Campus + Community
Commitment – Collaboration – Creation
---
Launched in the 2022-23 school year, Campus + Community is a center dedicated to supporting ethical and mutually beneficial engaged scholarship at UC Santa Cruz. Engaged scholarship includes all scholarly activities and teaching that is conducted in partnership with community-based agencies, and organizations locally, across the country, and internationally. Community engagement is a core component of UCSC's mission and vision, which include values of social and environmental responsibility and a commitment to community engagement, as well as dedication to diversity, social responsibility, and environmental stewardship. With resources and infrastructure from the Institute for Social Transformation, Campus + Community supports our campus to effectively demonstrate what UCSC accomplishes with our community partners and how these partnerships are transformational for all involved.
For more information on Campus + Community and how to become involved, please email us.
Banner image features UCSC students Paulina Gonzalez, Diana Padilla Legaspi, Hannah Gomez, and Robin Gabriel participating in We Belong: Collaborative for Community-Engaged Research and Immigrant Justice. Photo credit: Kimroop Bhatti
---
Project Spotlights
Check out how UCSC is partnering to address key issues in our community.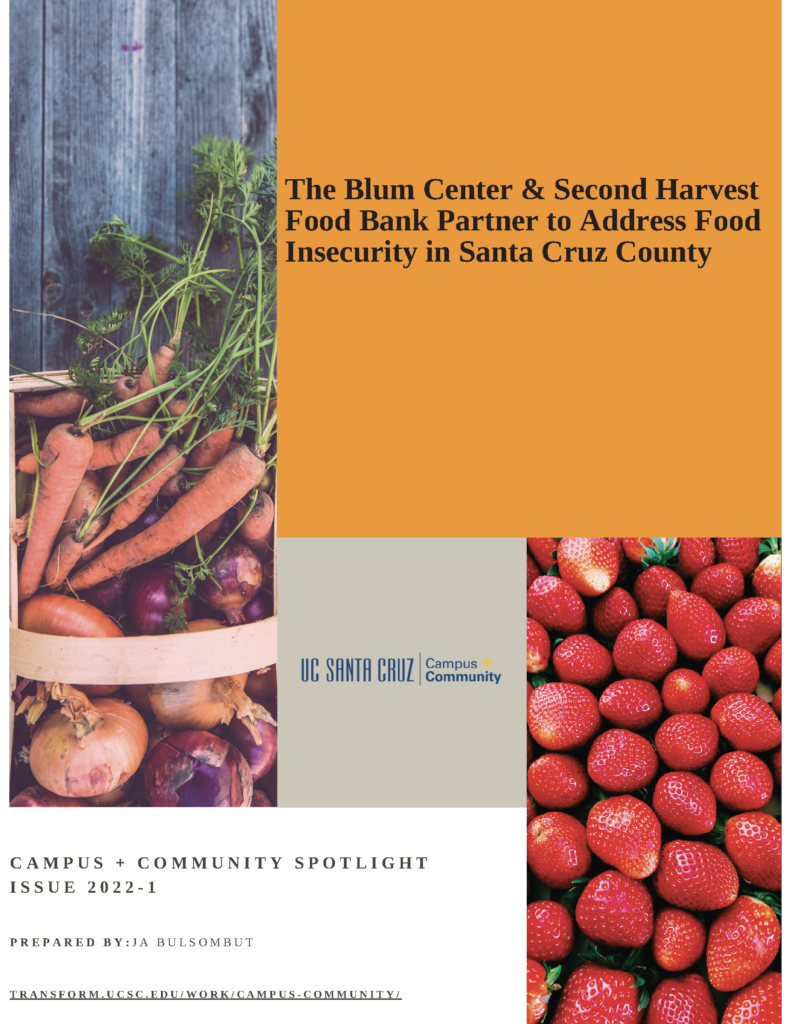 The Blum Center & Second Harvest Food Bank Partner to Address Food Security in Santa Cruz County
Since 2018, UCSC's Blum Center and Professor of Psychology Heather Bullock has collaborated with their long-standing partner Second Harvest Food Bank of Santa Cruz County, to better understand food insecurity across the region. Through engaged research involving Second Harvest staff along with UCSC faculty and graduate students, this partnership has found new ways to understand, track, and address food insecurity in Santa Cruz County.
To read more, download the full Campus + Community Spotlight issue below.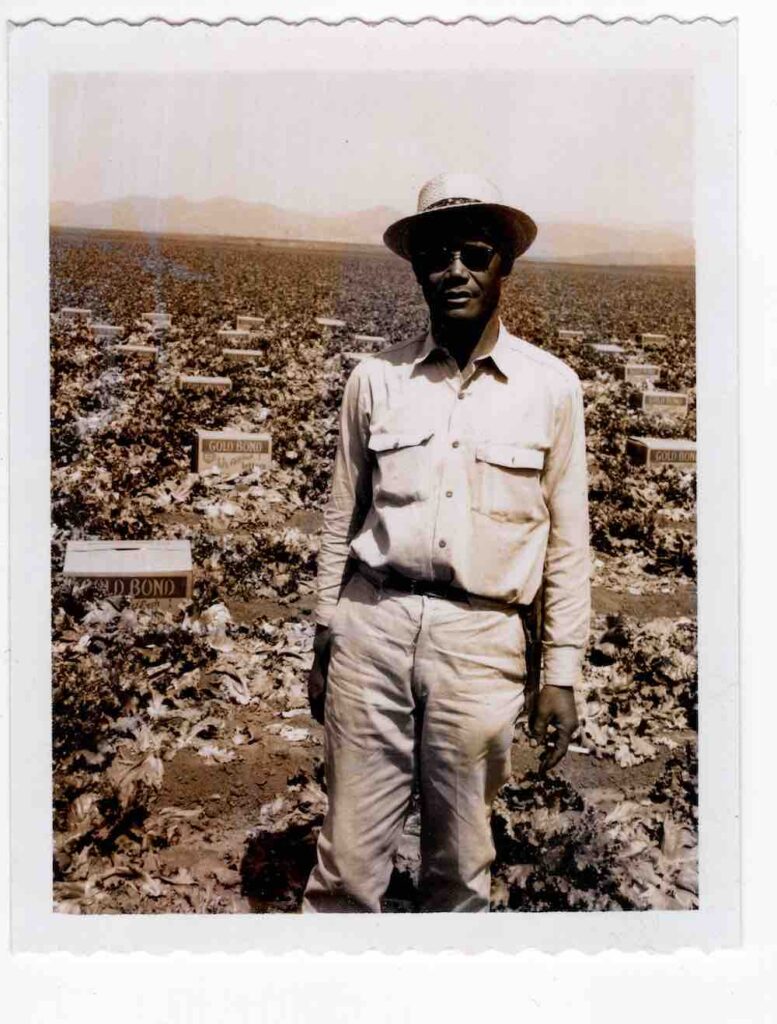 Watsonville is in the Heart
Watsonville is in the Heart (WIITH) is an initiative organized by Assistant Professor of History Kathleen Gutierrez and Associate Professor of Sociology Steve McKay in collaboration with Roy Recio, founder of the Tobera Project aiming to preserve and uplift the history and heritage of Filipino families in Watsonville and the Pajaro Valley. In April 2022, the initiative launched a digital archive, directed by History graduate student Meleia Simon-Reynolds and HAVC graduate student Christina Ayson Plankdocumenting the stories of the "manong" generation (Ilokano/Tagalog for "older brother") of Filipino migrant farmworkers who first settled in the Pajaro Valley in the early to mid-twentieth century.
To read more, download the full Campus + Community Spotlight issue below.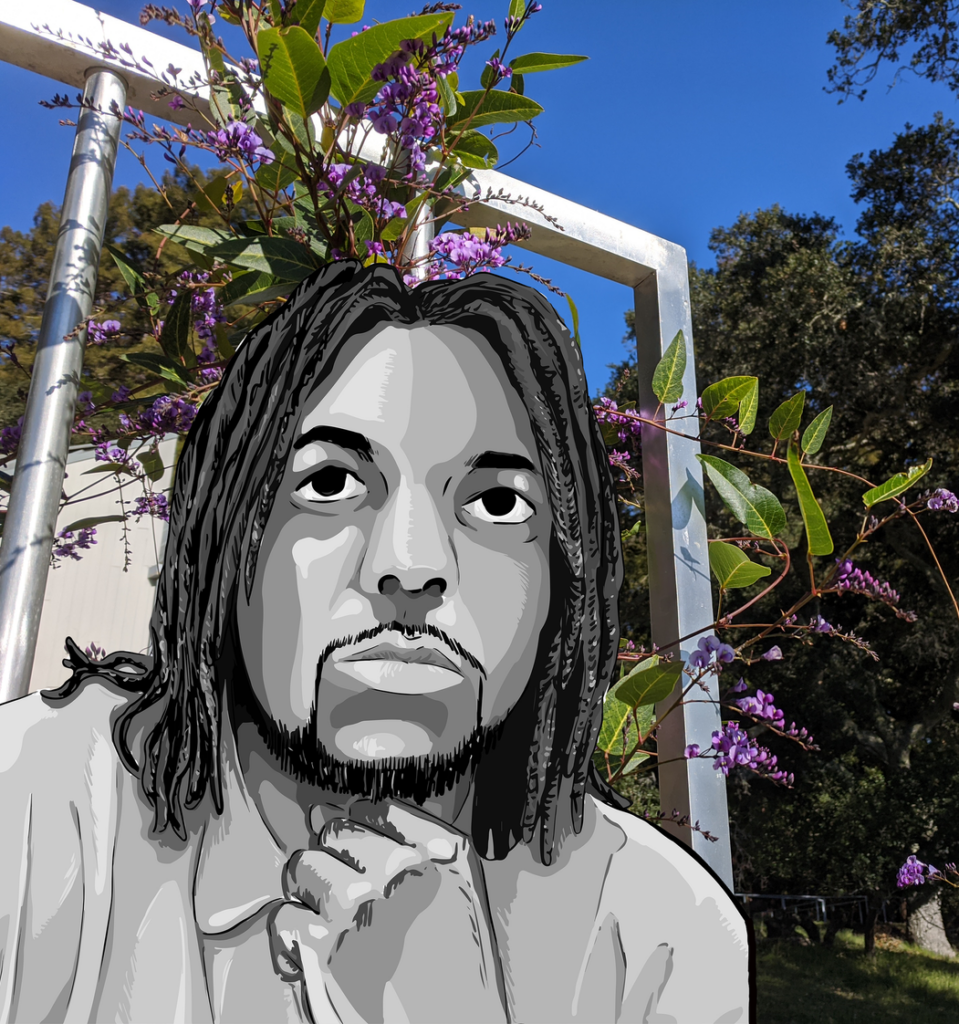 Making an Exoneree
In fall 2021, Sharon Daniel, Professor of Film and Digital Media launched a two-quarter course titled "Reasonable Doubts: Making an Exoneree" co-taught with Georgetown professors Marc Howard and Marty Tankleff. The course reinvestigated questionable cases, produced short documentaries that made the case for wrongful conviction, and created social media campaigns calling for exoneration.
To read more, download the full Campus + Community Spotlight issue below.
---
News
June, 2022
May 3, 2022
April 20, 2022
Events
<!=========Events list Template 2.3.1=========>
Join Campus + Community in a forum with campus leaders about taking stock of engaged scholarship in the tenure and promotion process at UCSC and across the UC system. UCSC …
Find out more »
Evaluating Engaged Research in Promotion and Tenure: Not Everything that Counts Can Be Counted Lauren Wendling, Director of Institutional Success at Collaboratory This study investigated how school- and department-level promotion …
Find out more »
An award-winning and nationally-televised film, which was filmed in Watsonville and follows Ashley, a Mexican-American teenager, who dreams of graduating high school and going to college. But when ICE raids threaten her family, Ashley is forced to become the breadwinner, working days in the strawberry fields and nights at a food processing company.
Find out more »
---
Publications
Check out the latest Campus + Community publications
People
Meet the Campus + Community Team