Q&A with Bianca Esquivias & Jonathan Winston
COVID-19 Public Health Campaign with DigitalNEST
Interviewed by: Darío León, Research and Community Coordinator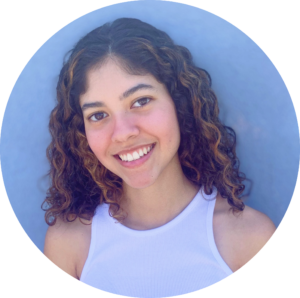 Bianca and Jonathan both received a Building Belonging fellowship award to work with DigitalNEST on a community-engaged research project. The Building Belonging Program is designed to increase engagement and build a greater sense of belonging for under-represented students through faculty mentored service-learning and research projects. This donor-funded program is administered through the Institute for Social Transformation at UC Santa Cruz.
DigitalNEST is a non-profit organization based in Watsonville that connects youth to a skill-building community that transforms them into professionals who can create successful careers, innovative solutions, and prosperous communities. Their vision is to create sustainable and scalable technology career centers in vulnerable communities all over California and beyond.
Tell us about the work that you have been conducting this summer with the DigitalNEST.
Bianca: We have been working on a public health campaign and marketing team where we create materials and graphics that can be easily read and understood by the local community, since the Santa Cruz County website is very dense, wordy and hard to understand. The goal of the project is to bring awareness and transparency about COVID-19 to the local Santa Cruz community. We're able to translate the material to a wider audience for those that may not understand what is happening and clear up misconceptions they might have. We have high schoolers and local communities getting involved. There is an increase in the number of cases of COVID-19 in Watsonville and that is due to the working climate of the community. So being able to translate material to the working class was needed in order to make change.
Now we're working on a COVID-19 resource website that includes a lot of resources to support and uplift the community including internships, volunteer opportunities and getting those businesses involved as well so they could get more people to support our work.
Jonathan: What we've been doing, or what it started as, was a series of social media campaigns. It was to essentially raise awareness about the proper precautions people can take for COVID-19 such as: social distancing, wearing a mask, and the different ways people could adapt their lives. That was the goal, to make a campaign that really spread information about COVID-19 and trying to be aware of this virus. But as we continued in the project, it progressed into a couple different things. On top of the social media campaign, we held a mask giveaway. One of the coolest things we created was a website which is going to be co-opted into a DigitalNEST resource website. Getting it out on social media is one thing but having it on a website that people can access makes it more permanent; it lasts longer and you can access it at any time. My current role focuses on the marketing aspect. We're trying to make sure that as many people as possible visit the website and have access to it.
What goals do you want to accomplish with the overall project? What kind of personal goals do you want to accomplish?
Jonathan: For the overall project something that I've come to realize, which is unfortunate, is that this pandemic might last for a long time. I don't really see an end in sight. So I really want this information to reach and provide assistance to as many people as possible. By creating this website and by having these resources available, it will hopefully be easy to update and maintain over time. That way, people will always have a place they can go when they need help and have a resource they can turn to. That's my long-term goal for this project; to make something people can use. My personal goal is to make sure that I'm reaching out to a lot of businesses, nonprofits, and schools, and that we get the right people on board that are really going to do the best for the community.
Bianca: A goal I have for the overall project is seeing the community interact with us, whether that is through Instagram or other forms. We've been posting a lot on Instagram in particular, on stories and creating hashtags so that local youth can get involved. For example, one activity is a mask design challenge. I created the visuals to engage the youth through summer because I know times are difficult for all of us right now. So having something for them to do with an incentive is really cool. The winners will be able to make the mask come to life. A personal goal for myself is to support the community and reach as many people as possible so their information can be included on the website and they can uplift one another.
What led each of you to do this type of work?
Bianca: I'm a junior at UC Santa Cruz double majoring in sociology and legal studies, with concentration in GISES (Global Information Social Enterprise Studies) but I love graphic design. I'm a creative person, so I love making visuals and helping out the community. That went hand-in-hand in this internship and being privileged enough to have a good education. I would love to share that with others and inform them on COVID-19 issues, especially since it's brand new to all of us. It has also been a learning experience for myself as well.
Jonathan: I've been into this type of work since high school. I always felt with my dad working at Costco for such a long time having a very stable job made me somewhat privileged compared to people who didn't have that same kind of childhood. I always felt like I wanted to give back to people because of that. I feel like everyone deserves to have a good quality of life and a happy life. That's what initially got me into this type of work. So from there I went to UCSC and majored in sociology with a concentration in GISES with the goal of getting involved in non-profit work and activism. I'm still very much involved, but now as I do more activism like this I'm starting to move towards getting involved in politics. I feel like in order to create the change that I'm working towards in activism, I need to connect that in some way to politics.
Has anything surprised you in this line of work?
Jonathan: What always seems to surprise me is how difficult it can be to make sure I get the right message out at times. There are a lot of factors to consider when you're doing this kind of work. Your goal is to alway to put out the best. For example, when translating material from a website to a graphic I want to make sure I'm sending out a good message to everyone, but at the same time trying to condense it in the right way.
Bianca: I would say that not being able to see a lot of translated material for the people that live in the county was surprising. As we have been translating the material, I've noticed the lack of information for various populations, such as the Spanish speaking community. There's a large Spanish speaking population in Watsonville, but when you look at the Santa Cruz County website the information that is translated is difficult to understand. It sends you somewhere else at times. It's just difficult to find information and they don't have a lot of information in Spanish.
What do you feel is the most rewarding?
Bianca: I think being able to use my passion and creating something that's accessible for all is the most rewarding. Creating the visuals, website design and working with organizations that truly believe that education is important among all ages. And I also love working with kids. So being able to work with youth and help them stay involved during this pandemic is rewarding as well to see that work in action.
Jonathan: What I think is really rewarding is when whatever you're doing is integrated well into people's lives. When the work you're doing is creating a website or doing a campaign and community members feel it comes naturally to them to seek the information in the project that you've worked on. They feel like what you did for them was exactly what they needed. That's what I think is best, when your goal matches what the other person's needs are and it all comes together.
What are your future career goals? Has the project influenced your decision or your ideas?
Jonathan: One of my future career goals for the past year and a half has been to return to Inglewood and one day be the mayor. That is my goal. So doing this work has only strengthened my resolve in accomplishing that. Whenever I do work with any community and I get to know the community well, it always at the end of the day, reminds me of my community back home. It reminds me of how much I miss my community and how much I want to give back to it. That's my goal and doing this project has strengthened my resolve to do that.
Bianca: My ultimate goal in life is to bring joy and happiness to people around me and uplift underserved communities. Through this internship I've learned that it's still what I love to do. I love to use the creative side of myself to support underrepresented communities and continue working in the marketing industry.
For more information on this project visit:
DigitalNEST Covid-19 Resource Website