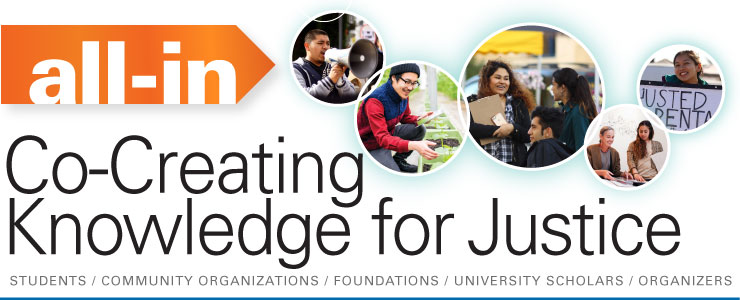 All-In: Co-Creating Knowledge for Justice Conference
October 26-28, 2022 | Santa Cruz, CA
There is an exciting resurgence in critical public scholarship: a push for universities to reach beyond their academic audiences and build stronger community-university partnerships to jointly tackle pressing social issues. Indeed, the complexity and scale of our social ills require not only inter-disciplinary approaches, but recognizing the value of community-based knowledge and its potential contribution to developing solutions to pressing problems.
We hosted an in-person conference and celebration of community-university partnerships on October 26-28, 2022, in beautiful Santa Cruz, CA. This 3-day national conference focused on sharing strategies to expand and deepen collaborative approaches for the truly equitable co-production of knowledge. More than 400 university scholars, students, community organizers, foundation representatives, artists, and activists came together for this one-of-a-kind event.
Click here for the complete recap of the All-In Conference including video recordings and photos!
Together we can build partnerships for change. #knowledge4justice
Conference Organizers