Amartya Sen: "Can the World Really be our Home?"
March 6, 2022
@
4:30 pm
–
6:00 pm
The 2022 Sidhartha Maitra Memorial Lecture featuring Nobel Laureate Professor Amartya Sen, in conversation with UC Santa Cruz History of Consciousness Professor Massimiliano Tomba and Dr. Anuradha Luther Maitra, UC Santa Cruz Foundation Board Trustee.
The Maitra Lecture Series on Humanism, Reason, and Tolerance, established in 2001, seeks to enrich the intellectual life of UC Santa Cruz and the Santa Cruz community. This premier campus event series is made possible thanks to the Sidhartha Maitra Memorial Lecture endowment.
This event is co-sponsored by the Center for South Asian Studies at UC Santa Cruz.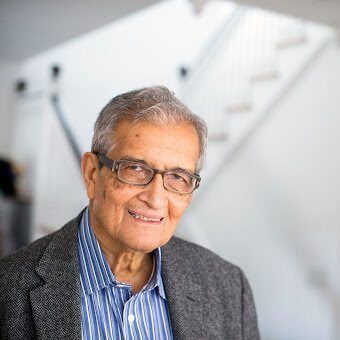 Amartya Sen
Amartya Sen, professor of economics and philosophy at Harvard University, has been called the "conscience of his profession" for his work on famine, poverty, gender inequality, human development theory, and welfare economics. He is a distinguished economist philosopher who won the
Nobel Memorial Prize in Economic Sciences in 1998. From 1998 to 2004, he was Master of Trinity College at Cambridge University, becoming the first Indian academic to head an Oxbridge college. He has received over 80 honorary doctorates, and his books have been translated into more than 30 languages.
His many books include Development as Freedom, The Argumentative Indian, Identity and Violence, The Idea of Justice, and his newly published memoir, Home in the World. Sen's numerous awards include Bharat Ratna (India's highest civilian award); Commandeur de la Légion d'Honneur (France); the National Humanities Medal (USA); Ordem Nacional do Mérito Científico (Brazil); Honorary Companion of Honour (UK); Aztec Eagle (Mexico); Edinburgh Medal (UK); the George Marshall Award (USA); the Eisenhower Medal (USA); and the Peace Prize of the German Book Trade (Germany).
He has served as President of the Econometric Society, the American Economic Association, the Indian Economic Association, and the International Economic Association.
 Sen previously spoke on "The Tyranny of Identity" at the UCSC Maitra Lecture in 2006.