May 13, 2022
@
5:00 pm
–
9:30 pm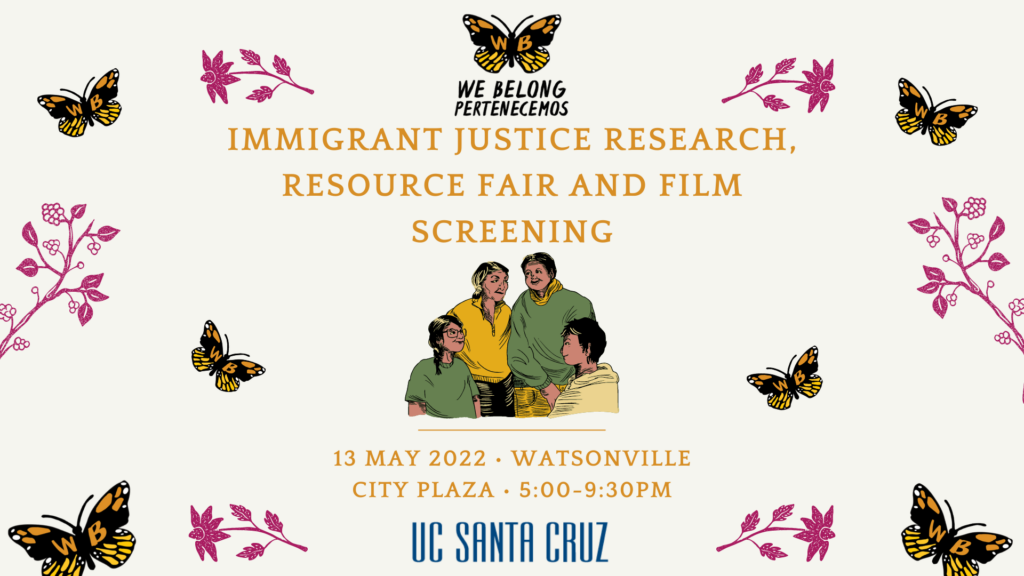 About the event:
On May 13, come celebrate immigrant families in Santa Cruz County and learn about the findings of a 3-year project – We Belong: a Collaboration for Community-based Research and Immigrant Justice. The project interviewed over 100 community advocates and members of mixed-status families, documenting the experiences of immigrant families, their contributions, and the obstacles they face. We aim to elevate immigrant voices, strengthen local community coalitions, and inform policies to ensure ALL community members belong and thrive. The event will feature cultural performances and an interactive "research findings and resource fair" at the Watsonville City Plaza, where community members can explore themes, take part in games, and learn about the actions and services by community organizations on key issues, including:
Places and Spaces of Belonging, including culture and cultural organizations, and public space planning
Legal Literacy and Services around Immigration
Economic Security and Well-being, including housing, food, and employment
Family Health and Well-being, including physical & mental health, childcare
Access to Education, including language access and pathways to college
Youth and the Rising Generation, focusing on youth and community organizing
Fruits of Labor Film Screening:
The event will conclude with a FREE outdoor screening of the award-winning and nationally-televised film – Fruits of Labor – which was filmed in Watsonville and follows Ashley, a Mexican-American teenager, who dreams of graduating high school and going to college. But when ICE raids threaten her family, Ashley is forced to become the breadwinner, working days in the strawberry fields and nights at a food processing company. The screening will include a discussion with the film maker, Emily Cohen Ibañez, and Ashley Pavon, the star of the film.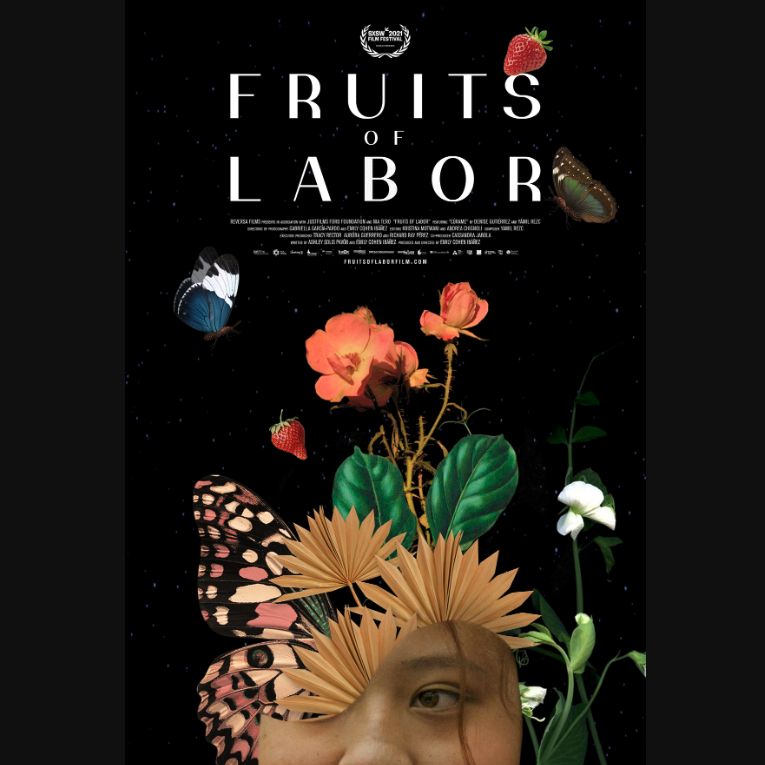 FRUITS OF LABOR
A film by Emily Cohen Ibañez
A Mexican-American teenager dreams of graduating high school, when increased ICE raids in her community threaten to separate her family and force her to become the breadwinner for her family. She works long days in the strawberry fields and the night shift at a food processing factory.
Set in an agricultural town on the central coast of California, Fruits of Labor is a coming of age story about an American teenager traversing the seen and unseen forces that keep her family trapped in poverty. A lyrical meditation on adolescence, nature and ancestral forces, the film asks, what does it mean to come into one's power as a working young woman of color in the wealthiest nation in the world?
Fruits of Labor is a character driven account that explores universal themes of how a young woman navigates family obligation and the desire to pursue her dreams in the predicaments of our times. In Ashley's case her dream is to be the first in her family to graduate high school and go to college. From Zora Neale Hurston's novel Their Eyes Are Watching God to Aurora Guerrero's film Mosquita y Mari, women artists have called attention to the daily oppressions and personal desires of women; the political is expressed in the private intimacies of falling in love, the burdens of domestic life, and the desire for personal freedom and dignity.
Most documentary films about farmworkers look at public personas–the political is in the rally, the strike, and the public speech. Fruits of Labor offers a new narrative about women workers that shows the nuances of how the global food system intersects with gender and family life.
Learn more at www.fruitsoflaborfilm.com
Who This is For:
This event is FREE and open to the public. We welcome community members, students and community organizations interested in fostering community belonging and justice for immigrants and immigrant families, resources and services for the Santa Cruz County community, and everyone who wants to celebrate immigrant families, their voices and their importance to Santa Cruz County.
In-Person:
The event will be held outdoors and in-person at the Watsonville City Plaza. For those that wish to stay for the free film screening, please bring blankets and/or chairs. No seating will be provided.
Event Parking:
Parking will be available at the Watsonville Civic Plaza Parking Garage at 275 Main St and on nearby streets.
Sponsors:
This event is made possible with generous support from: University of California National Center for Free Speech and Civic Engagement; Community Action Board (CAB) and the Thriving Immigrants Collaborative of Santa Cruz County; the City of Watsonville; UC Santa Cruz Oakes College Community-based Action Research and Advocacy Program, Campus+Community Program, Research Center for the Americas, Institute for Social Transformation, Division of Social Sciences, Center for Labor Studies, Fruits of Labor Social Impact Team, Watsonville Film Festival.
Participating Organizations:
Cabrillo College Outreach and Watsonville Center, UCSC Educational Partnership Center and GEAR UP program, Community Bridges Family Resource Centers, City of Watsonville Planning Office, Watsonville Law Center, CAB-SC Immigration Project, Housing Santa Cruz County, CAB-Day Worker Center, Migrant Head Start, PV Unified School District, Salud para la Gente, Youth Action Network, Jóvenes Sanos, Coalition for Humane Immigrant Rights (CHIRLA), Estrellas de Esperanza.
For more information, contact Steve McKay: smckay@ucsc.edu