UC Global Health Day 2022: Centering Social Justice in Community Health
May 7
@
9:00 am
–
5:00 pm
PDT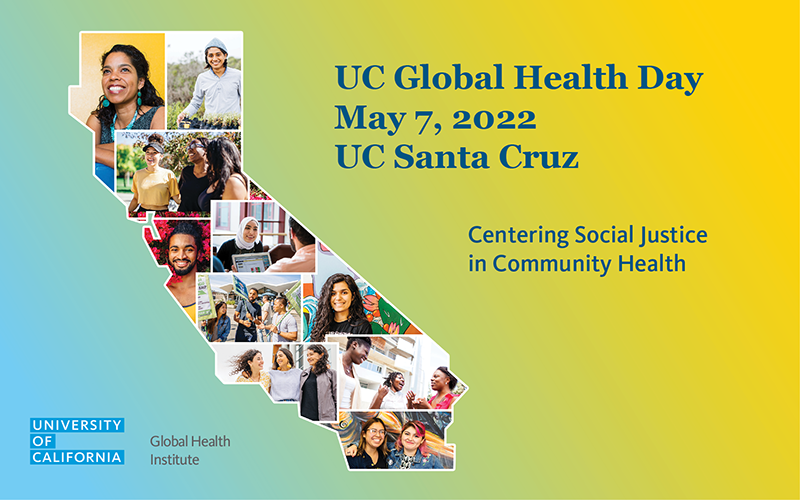 This system-wide conference on global health showcases the outstanding research, training and outreach taking place across the University of California and is an amazing opportunity for UC students, fellows, faculty, staff and visiting scholars to gather to share their work.
Interdisciplinary by nature and collaborative in spirit, global health efforts encompass a range of academic topics – from psychology to engineering to sustainability and economics, scholars are committed to improving the health of humans, animals and ecosystems around the globe. This event builds on the work of global health practitioners from UC and beyond by bringing together partners, leaders and young career professionals for a day of sharing and discussion.
Call for abstracts now open:
UCGHI invites abstracts for poster presentations and proposals for breakout sessions that exemplify the breadth, depth and transformative possibilities of current global health research, education, and program development. UCGHI seeks a broad range of presentations to showcase the rich diversity of work being done in global health across different UC campuses and disciplines. Approaches may range from basic and translational global health science to community struggles for health justice, with possible topics including (but not limited to) access to medicines, agroecology, bioethics, climate crisis, community health workers, genomics, health humanities, indigenous health, mental health, migrant health, pandemics, racial justice, women's health, and LGBTQIA health. We are seeking a broad range of topics to feature the rich diversity of work being done in global health across different disciplines.
Click here to access Catalyst submission portal.
Stay tuned for more information on registration and details on this system-wide global health conference that will be hosted by UC Santa Cruz on Saturday, May 7, 2021.