Changing Climate: The Role of Environmental Justice
A Conversation with Rhiana Gunn-Wright
February 10, 2021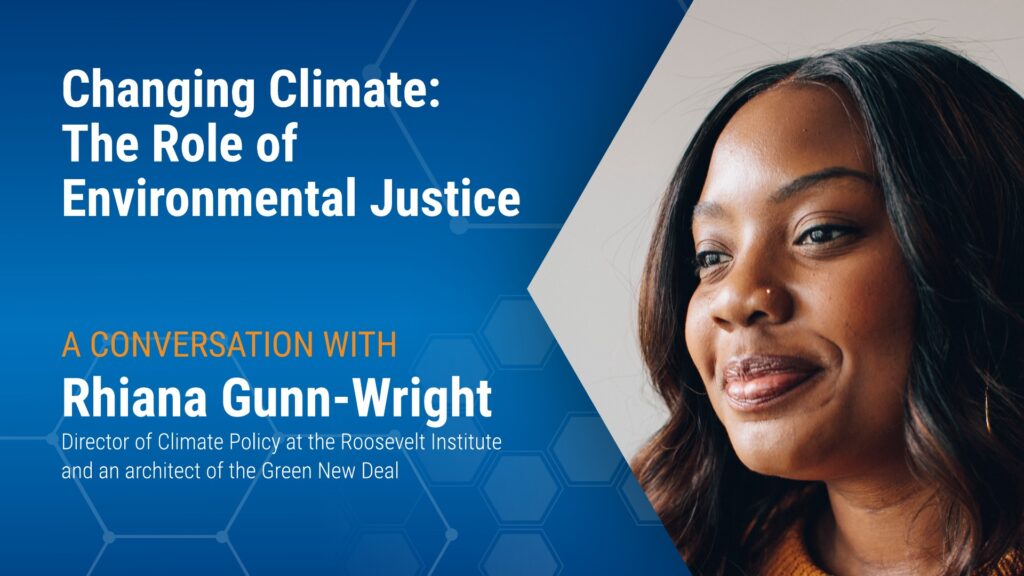 Speakers
Rhiana Gunn-Wright, Director of Climate Policy at the Roosevelt Institute
Moderated by Sikina Jinnah, Associate Professor of Environmental Studies at UC Santa Cruz
Welcome and opening remarks by Valentin Lopez, Chairman of the Amah Mutsun Tribal Band
Video Recording
Event Recap
Rhiana Gunn-Wright, lead developer of the Green New Deal and current climate policy director at the Roosevelt Institute, shared her insights on climate justice with the UC Santa Cruz community during a virtual event hosted by the Institute for Social Transformation. More than 1,400 people registered.
Gunn-Wright discussed a wide range of topics—from the origins of the Green New Deal to the connections between COVID-19 and climate change—and she also offered a deep dive into policy tools. Her approachable communication style and sense of humor made these issues accessible for a broad audience. Gunn-Wright made it clear that everyone has a role in the climate movement, and building community will be key to progress.
"The nature of this work is that it needs to be done in community, both because of the scale of what we're trying to do, but also to shoulder the emotional burden, to some extent," she said. "These are scary things to talk about and to face down every day and to try to work on, and the strength that comes from facing it with other people is really crucial."
Throughout her talk, Gunn-Wright illustrated how tackling climate change and racial injustice go hand-in-hand. And ultimately, understanding these connections can help advocates envision more effective solutions.
"When you think about climate change as just a matter of emissions or technical fixes, you miss the way that climate change is able to happen through a pretty unique set of circumstances," she explained. "When you're talking about fossil fuels, we wouldn't have gotten to this place if not for the unequal power relationships that are possible through white supremacy."
Earlier in the day, Gunn-Wright met with UC Santa Cruz students. The student conversation was moderated by Chris Lang, a graduate student in Environmental Studies and intern for the People of Color Sustainability Collective, and Breanna Byrd, a graduate student in Feminist Studies and intern at the African American Resource and Cultural Center. Fifteen graduate and undergraduate students participated. The event provided a unique opportunity for students to engage with a leader in cutting-edge environmental policy work.
Gunn-Wright also shared her advice for future leaders during the public discussion, encouraging young people to seek out mentorship opportunities and to keep an open mind to a wide variety of opportunities to work toward meaningful change.
"Something I wish I knew starting out is that there are so many ways to get to where you envision," she said. "There are so many paths. Don't stress about 'if i don't get my first job in climate justice'. There are so many ways to end up where you want to be."
In the Media
Resources
Live Tweets @UCSCtransform