Q&A with Erika Zavaleta
Professor of Ecology and Evolutionary Biology at UC Santa Cruz
Interviewed by: Allison Arteaga Soergel, UC Santa Cruz Public Information Representative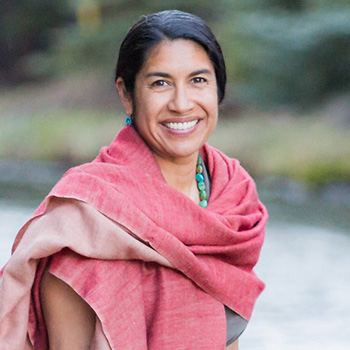 Professor Erika Zavaleta is a recognized leader on multiple fronts within conservation biology and sustainability. Her research studies how humans are changing the diversity of land-based plant and animal communities. She works closely with conservation organizations, governments, and communities to support better management of natural resources and was recently appointed to the California Fish and Game Commission by Governor Gavin Newsom. And on April 6th, the Ecological Society of America announced Zavaleta as their 2021 Commitment to Human Diversity in Ecology Award winner, for her role as an instrumental advocate of diversity, equity and inclusion within the field.
She directs two programs based at UC Santa Cruz that support the leadership and success of students of color in conservation and sustainability. The Center to Advance Mentored, Inquiry-based Opportunities in Ecology and Conservation (CAMINO) is a community for diverse, conservation-focused UCSC undergraduates across divisions to connect with peers, mentors, research funding, and career resources. And the Doris Duke Conservation Scholars Program selects 20 early-career college students from across the country on an annual basis to participate in a funded, two-year leadership development experience.
Zavaleta says she's learned a lot from directing these programs over the past several years, including that successful support models require a strong focus on community-building, outreach, and representation. Now, she's working to share these insights across the campus community and beyond. We caught up with Zavaleta to discuss lessons learned and her hopes for the future.
Let's start with discussing the role of diversity, equity, and inclusion in sustainability and conservation work. What do people need to understand?
Focusing on DEI in sustainability and conservation work is incredibly important. We need to pay attention to the value of who is doing the work and what impact that has on the work that's produced, as well as the potential for sustainability to permeate thinking in other disciplines and sectors behind the narrow slice that it's always been in. To have the field really engage the ideas, the values, the skills, and the knowledge of people from many different backgrounds and cultures means something for the quality of the work that takes place and the salience of the whole sustainability endeavor to society.
And how are the Doris Duke Conservation Scholars and CAMINO programs advancing these goals within the field?
We've been running the Doris Duke and CAMINO programs long enough now that we're leaving the R&D phase and starting to share out what we've learned about what works for promoting diversity in sustainability and conservation. That's a really exciting place to be, because it means people will start looking to UCSC as a model for how to do this well.
We are trying to be a national model. We're trying to create an ecosystem of programs that are complementary and that other people will want to copy. And I think we're just about there. So we're at a very exciting point where we're trying to do a lot of communication about these programs in peer-reviewed journals, and we're producing how-to guides to try to scale the model of the work that we're doing.
Can you give us an example of the types of lessons you're sharing from these programs?
One of the key lessons I've learned that I think is really important for people as they're doing their own strategic thinking about how to support diversity and inclusion is that the students are there, and the interest is there.
One of the things that was a big question mark coming into the Doris Duke Conservation Scholars Program, which is a national program, was about who would be interested. Are there a lot of students out there who are natural leaders, who are rocketing to early leadership, who are from underrepresented backgrounds, and who are passionate about conservation and sustainability? Are there hundreds of them every year who would want to do something like this? The clear answer has been: yes, absolutely there are.
You hear frequently, at various stages of academia, that the pool of candidates isn't there, or the interest isn't necessarily there, or there's a need to reshape messaging around what sustainability looks like so that other constituencies will be interested. I think that's backwards. It's not a problem of convincing anyone that this is valuable and important work to engage in. It's about retention. There's no issue of recruiting people from a huge diversity of backgrounds to sustainability work. It's an issue of sharing leadership and agency in the field enough that all of that diversity can be reflected in what sustainability is and how it's pursued.
So how should conservation programs go about forging connections with communities of color?
One huge lesson is that a passive model of recruitment doesn't work. If you expect passive diffusion of information about opportunities to do the work for you, you're going to be disappointed by the reality that existing networks don't necessarily reach into the communities whose voices most need to be part of the conversation. That's an institutional lesson that's really important to think about, because I've seen it go wrong over and over again. Good design for spreading the word and good outreach is absolutely crucial. Our institutions are part of these networks that are not inclusive yet, so we need to reach beyond them.
And what strategies have you found that support student success and retention?
Maybe the most important thing that we've learned from all of our programs is that this work is fundamentally relational. It's about building communities. It's about building enduring relationships: peers with peers, peers with mentors, and communities of mutually-supporting individuals.
There's a common model of how to support success in education that's very individualistic. It's very much about taking each person and trying to help them reach their full potential. But the truth is that what draws people to remain in a field is the way that they strongly identify with the community of practice in that field, and the way they connect to the people they work with, and the sense that they belong in that field.
So we have a relational model in our programs that puts building a strong community ahead of everything else, and you see that in many different types of successful efforts across sectors. I think we do a disservice if we focus on elevating individuals. Ultimately, that's not enough to sustain people in a field. What they need is a family that they belong to in that field. That's their reason for being there.
For the future of these efforts, what do you see as the biggest remaining growth areas?
The vast majority of efforts to build DEI are bottom-up. The model is that you increase people coming into the pipeline, and then more of them will come out the other end. The biggest single thing that universities could do to really have the process succeed would be to also recognize the need to pull from the top. It's not that there aren't efforts to diversify faculty and post-docs, but it really is so crucial, because without those efforts, there's just too much attrition at every earlier stage, unless you're also working at the top to shift culture, climate, and leadership.