Reparations for Black Americans: The Road to Racial Equality in California and Beyond
April 15, 2021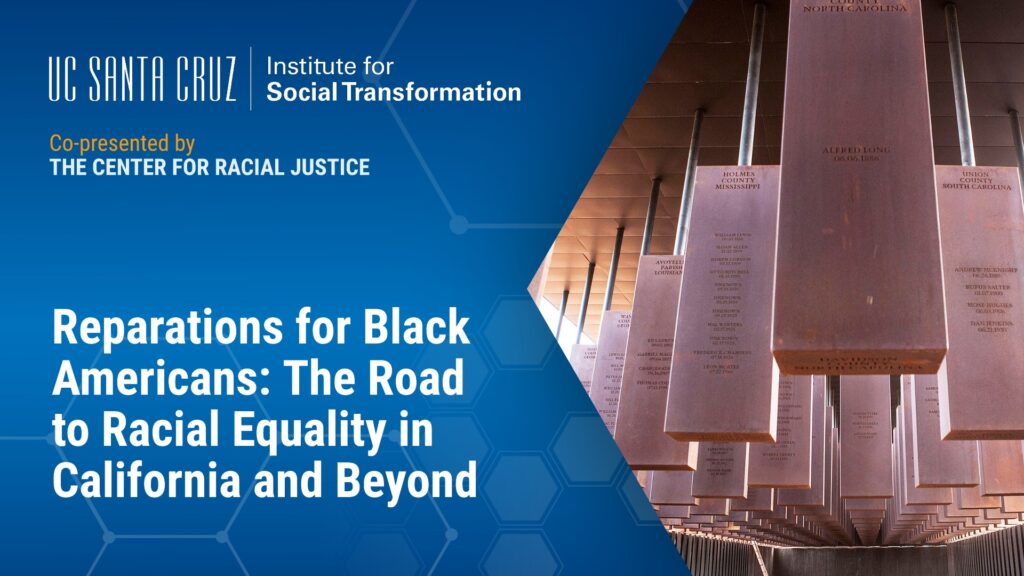 Speakers
William A. Darity Jr. and A. Kirsten Mullen, co-authors of From Here to Equality: Reparations for Black Americans in the Twenty-First Century
Anne Price, President of the Insight Center for Community Economic Development
Congresswoman Barbara Lee, U.S. Representative for California's 13th congressional district
Moderated by Chris Benner, Director of the Institute for Social Transformation
Video Recording
Event Recap
In September 2020, California became the first state in the country to adopt a law that established a task force to study and develop proposals for potential reparations to descendants of those impacted by slavery. Although the movement for reparations extends back to the 18th century, it has gained momentum in recent years, especially after the national protests against racial injustice last summer. U.S. Rep. John Conyers (D-MI) first introduced legislation to create a national task force to study reparations in 1989. The current version of the federal bill, H.R. 40, has at least 169 co-sponsors in the House but has yet to achieve majority support.
In addition to the movement for state and national reparations for Black Americans, the event panelists discussed how reparations could help close the racial wealth gap and promote racial equality. Speakers Sandy Darity and Kirsten Mullen have done research on the aftermath of slavery when a promise made to provide former slaves with 40 acres in land grants went unmet. Darity and Mullen estimate that it will require $10-$12 trillion in federal expenditures to bring Black Americans' economic assets up to their white counterparts.
Racial wealth inequity, which has been highlighted during the pandemic, has also been on speaker Anne Price's mind. "What we're really seeing during the pandemic are inequities being laid bare that have existed for a long time," said Price. "For many years, systems that really were not working on behalf of people of color, from our educational system to our healthcare system, to even our unemployment system, all have come home to roost. We're seeing these inequities play out across these systems, and they're interconnected. So it's really magnifying the long-standing inequities that have been baked into these systems that are having devastating effects on people of color."
To learn more, please view the resources listed below.
Resources
In the Media
Live Tweets