Salton Sea Long Term Planning Project
Professor Brent Haddad, Principal Investigator
---
California's Salton Sea is rapidly losing water as inflows have reduced over the past 30 years. Its footprint is shrinking and salinity increasing, causing negative impacts to the local economy, public health, and the environment. In May 2021, the State of California Salton Sea Management Program (SSMP) awarded a contract to the University of California Santa Cruz to evaluate water importation concepts to refill the Sea. An Independent Review Panel was established, as well as a Research Support Team that would eventually comprise three UCSC faculty members, one master's student and six PhD students, as well as engineering, economic, legal, and environmental consultants, under the administration of the Institute for Social Transformation.
The Panel's charge was to evaluate public submissions describing ways to import water to the Salton Sea basin to restore the Sea. The Panel operated from October 2021 through September 2022. It produced four formal reports, all available below. The reports narrow the importation concepts from 18 to three based on fatal flaws, and then carefully analyze the three, comparing them to two additional approaches identified by the Panel. The Summary Report presents the Panel's conclusion: none of the importation concepts is feasible or recommended. Rather, a desalination plant should be built as soon as possible at the Sea to reduce its salinity, with additional water provided from the local Imperial Irrigation District to replace the salty brine effluent water that is produced by the desalination process.
On this page we provide both the formal reports of the Panel, as well as background materials that may be of public interest and use that were developed by the research team. They are free to the public and include:
An interactive multi-layered map developed for the Panel by UCSC doctoral student Daniel Hastings, who narrates a brief film explaining how to use it.
A set of Technical Memos prepared by the research team to help familiarize the Panel with the region and its challenges.
Links to the water importation concepts submitted in 2018 and 2021
Recordings of public meetings at which Principal Investigator Brent Haddad explains the Panel's findings are available at a website curated by the state.
For further information contact the state's Salton Sea Program at: cnra-saltonsea@resources.ca.gov .
---
Panel Reports
---
Background Materials for Public Use
The Independent Review Panel worked with its research support team to develop materials to aid its review of importation options.  We are now making them available for public use.  They include an interactive map and a set of technical background memos to help frame the water importation challenge.
Salton Sea Water Importation Review Panel Web Map and Instructional Video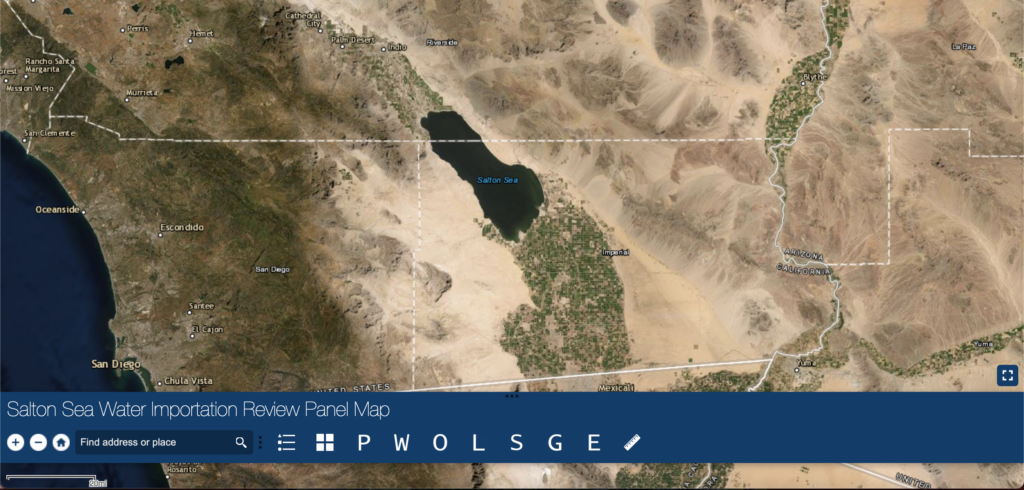 Research Support Materials
Water Importation Concepts Reviewed by the Panel