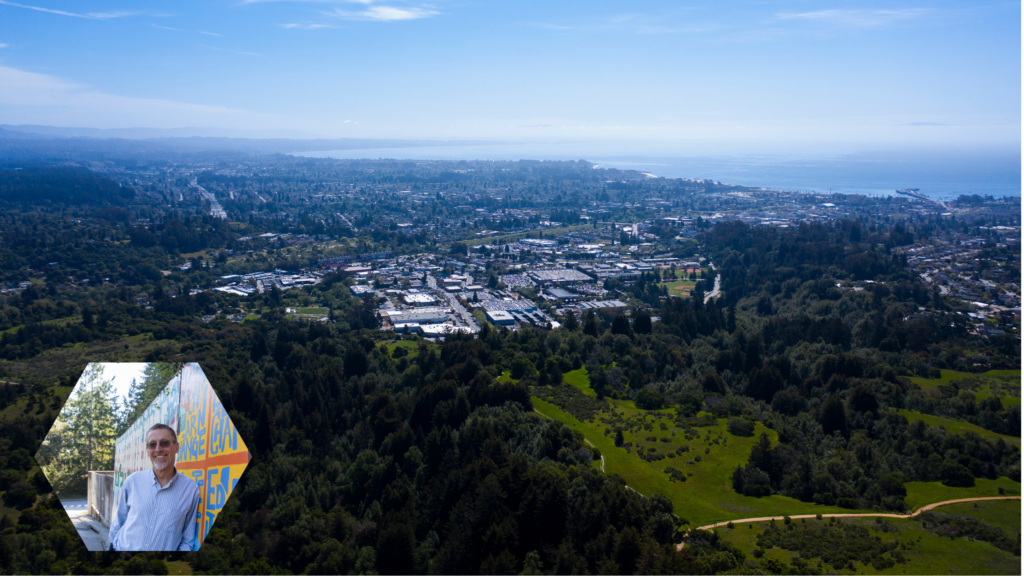 September 29, 2022 — As we launch into a new academic year, I've been reflecting on the importance of the Institute's mission. We strive to be a critical intellectual and social hub for our community, connecting UCSC scholars and students with partners in the region and around the world as they work to develop research-based solutions to the big challenges we face. In the short four years since IST began, with the support of many partners, we've grown a diverse and talented core staff, worked with faculty across campus on a range of dynamic and exciting initiatives, and hosted a wide range of events on important contemporary issues that have engaged thousands of people. And this year is already shaping up to keep us even busier!
Just a few highlights of what's happening at the Institute:
New staff: Over the summer, we were happy to welcome Glenn Mitoma, our new Managing Director, to the team. Glenn, a UCSC banana slug ('96, Studio Art), returns to Santa Cruz from the University of Connecticut, where he was an assistant professor of human rights and education and the director of Dodd Human Rights Impact. Glenn brings a tremendous combination of administrative, fundraising, and networking skills and leadership rooted in his own scholarship and appreciation for the connections between research and social impact. We also welcome to the team a new Research Specialist, Gabriella Alvarez, who comes to us with a Master of Public Health degree from Columbia University.  Gabby will be supporting Campus + Community and our Salinas inclusive economic development work (more on these projects below). We also welcome two new undergraduate staff through the Chancellor's Undergraduate Internship program, Maggie Ann Desphy and Karina Diaz Alvarez. We also expect to be hiring for two new positions in the coming year, so the office is really buzzing these days.
All-In: Co-Creating Knowledge for Justice Conference: Our most exciting event of the year is the upcoming conference on community-engaged scholarship. With more than 350 people registered, the conference promises to be a dynamic opportunity to share best practices and celebrate achievements in building stronger community-university partnerships to jointly tackle pressing social issues. We've had to close registration, given the scale of interest, but keep an eye out on the conference webpage, where we'll post videos of the plenary sessions and have links to presentations and other resources. We are deeply grateful to our conference organizing committee and many co-sponsors, without whom the conference would not have been possible. 
Campus + Community: This fall, Campus + Community is ramping up, led by Sociology Professor Rebecca London. This center aims to foster effective, reciprocal, and equitable partnerships between UCSC faculty, students, and staff and our broader communities ; track and evaluate partnership outcomes and impacts; and help build capacity for and recognition of community-engaged scholarship. Keep an eye out on the webpage, where we will be highlighting a wide range of community-engaged initiatives across campus and sharing more about the  C + C's core work with the United Way of Santa Cruz County building youth civic leadership. 
Center for Labor and Community: One of the exciting things in this year's UC budget passed in the state legislature was new ongoing funding to expand labor-related research and educational initiatives on all UC campuses. We worked closely with Sociology Professor Steve McKay to help him respond to this opportunity, proposing to rename and expand the existing Center for Labor Studies to the new UC Santa Cruz Center for Labor and Community, which will be housed in the Institute. With input from both a Community Advisory Board and a Faculty Advisory Board, the Center will pursue research, policy analysis, and educational and public programs that support workers and their families, particularly those in low-income communities, immigrant communities, and communities of color on the California Central Coast.
Salinas Inclusive Economic Development: With the financial support of the Irvine Foundation, we are now well underway in our research and community capacity-building work in the city of Salinas, focused on promoting greater equity and economic opportunity. We are partnering closely with the Salinas Inclusive Economic Development Initiative (SIEDI), a collective of nine community organizations,to shift the region's economic landscape to reduce inequality and improve financial stability and quality of life for local families. In addition, students in the Everett Program for Technology and Social Change are helping these community organizations tell their stories to a broader audience and conducting research on structures of power and influence in the region's economic development decision-making ecosystem. 
Salton Sea: Over the past two years, Environmental Studies Professor Brent Haddad has led a research team supporting a state-mandated Independent Review Panel charged with evaluating proposals for importing water to refill the Salton Sea, the largest lake in California. The Salton Sea has been losing water for more than 30 years, with a shrinking footprint and increasing salinity, leading to increased toxic dust storms and a wide-range of local economic, environmental and public health problems. Now finishing up their work, the panel will present a detailed analysis of the technical and economic feasibility of importation concepts to address these problems. This zoom session is open to the public, Friday, September 30th, 5:30-7:30 pm.  
Global and Community Health: We are excited to see the launch of two new majors in this dynamic initiative, which we have helped incubate over the past few years. Students are being admitted into these majors this fall, and the interdisciplinary course on foundations in global and community health that students in both the B.S. and B.A. tracks take has more than 250 students enrolled, demonstrating the clear interest in the field. The Institute will continue to support the various research initiatives that are connected with this critical effort to promote more equitable and healthy communities locally and globally.  
There is more I could talk about—such as our on-going faculty and student funding initiatives, support for the Right Livelihood College, and an upcoming opportunity to work with the state-wide Community Economic Mobilization Initiative—but the main message is simple: exciting things are happening!
It is a joy and privilege to be part of such a dynamic community of scholars and partners who are so deeply committed to the ongoing work of building local and global societies rooted in equity, access and opportunity for all people, environmental regeneration and democratic revitalization.
Adelante!
Chris Benner, Faculty Director
Institute for Social Transformation