Salinas Inclusive Economic Development Initiative (SIEDI)
---
The Institute for Social Transformation received a $650,000 grant from The James Irvine Foundation to conduct community-engaged research and community capacity-building work in the city of Salinas, located about 40 miles southeast of UC Santa Cruz. The institute will partner with the Salinas Inclusive Economic Development Initiative (SIEDI), a collaboration of nine community organizations, in an effort to shift the region's economic landscape to reduce inequality and improve financial stability and quality of life for local families.
The city of Salinas is one of five "priority communities" in California—alongside Fresno, Riverside, San Bernardino, and Stockton—that the Irvine Foundation has identified as having less diversified economies and a disproportionate number of low-paying jobs, with the majority of low-wage workers being people of color. The foundation's grants in these communities are aimed at increasing economic advancement opportunities for workers through creation of new, better-paying jobs with worker protections, benefits, and pathways to advancement.
The Institute for Social Transformation was a natural partner for this work in Salinas in part because of director Chris Benner's expertise as a scholar of equitable economic development. Benner, a Professor of Sociology and Environmental Studies, has been working for the past 20 years with Manuel Pastor, a colleague at the University of Southern California Equity Research Institute to develop a framework for how to address inequality, social divisions, and ecological destruction by bolstering aspects of our economy that are built upon mutuality and collaboration. Their 2021 book Solidarity Economics: Why Mutuality and Movements Matter, lays out the theory and strategies behind this approach. And now, the new grant-funded work with SIEDI will offer an opportunity to apply and refine those principles in partnership with the community.
As part of that work, The Institute for Social Transformation will join SIEDI in a planning process to set specific indicators—based on the group's goals for economic transformation in the region—that can be used to track progress on a neighborhood, city, and regional scale. The institute will then evaluate data availability around these indicators, with the hope of creating an online economic analysis tool to support the work of SIEDI members.
The institute is also developing an interactive "power mapping" tool for SIEDI, which helpes community organizations visualize who has power over economic development decisions in the region and which people and groups to engage with in order to influence those processes. Within the private sector, Benner says this can be particularly difficult to determine, since corporate decisions are often made behind closed doors, without public accountability.
The partnership with SIEDI also includes communications projects that will involve students from the Everett Program for Technology and Social Change to develop an interactive "story map" visualization that will share the goals and work of each organization and SIEDI as a whole.
Click here to read the full UCSC NewsCenter press release >>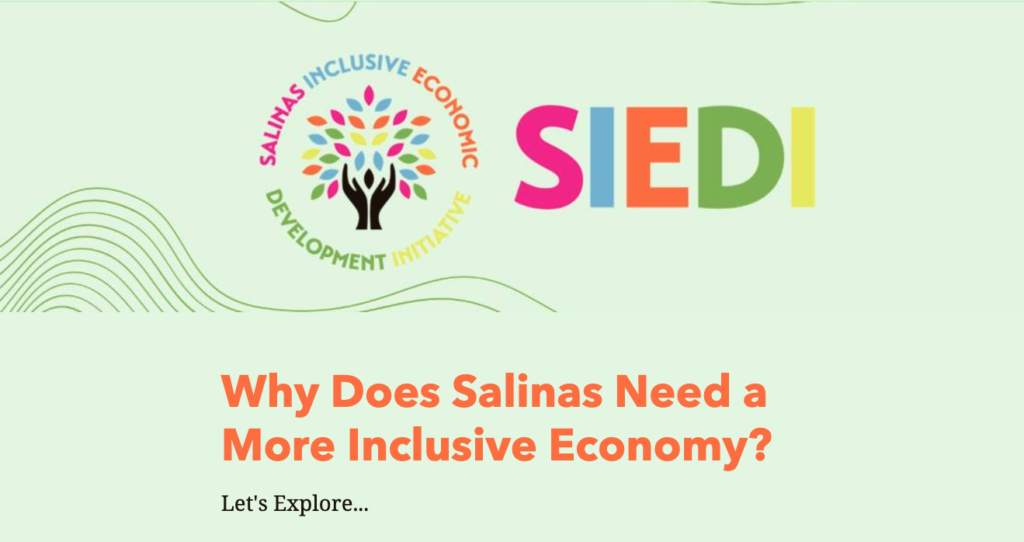 ---
Chris Benner and Manuel Pastor were the keynote speakers at the Monterey Bay Economic Partnership's (MBEP) 8th Annual State of the Region on October 14, 2022, which brought together a cross-sector gathering of public, private and civic leaders to discuss some of the biggest challenges facing the region, from broadband infrastructure and the digital divide to affordable housing and inclusive economic recovery and development. Click below to watch their presentation.
See Also